The RealSound Studio is a high-tech level recording studio that was born in 2003 on Parma's hills. About 20 km far from the motorway, it is easily reachable by any means. The place is air-conditioned and located in a very quiet area where you can work without discomfort of any kind. The warm and familiar atmosphere is designed to allow the musicians an excellent approach to recording. This, together with professionalism, cordiality and high quality instrumentation makes it suitable to transform your musical project in a professional recording. Also, and independent housing room is available nearby the structure. This room can accommodate up to 4 / 5 people and includes a kitchen, a bathroom with shower and a Tv.
STUDIO EQUIPMENT
DIGIDESIGN PRO TOOLS HD 3 ACCEL
ANTELOPE ISOCHRONE OCX ATOMIC CLOCK
OUTBOARDS:
Neve 1073 preamp B002 (x2)
Api 312 preamp (x4)
Avalon Sp737 Vacuum ch. strip
Telefunken v672 preamp (x4)
Neumann v476 preamp (x2)
Bellari Rp 220 Dual Vacuum preamp
Urei 1176 Blackface compressor
Empirical Labs DISTRESSOR El8-X (x2)
SSL g400 Mastering bus compressor
Ntp 179-400 Stereo Analog LIMITER
Vari Mu Stereo Compressor Phoenix style
Neve 8816 Analog Summing
Filtek Bfe Mk3 Parametric EQ (x4)
Lexicon Pcm 91Reverb
Tc Electronics M3000 MultiFx
Lynx Aurora 16
Digidesign 96 I/O
Presonus Central Station
Patch Panel Neutrick
Phonic Paa3 Audio Analyzer
CONSOLE/MIXER:
M C I jh636 analog console 36 ch.
Studer A810 Analog tape recorder 2 tr.1..4 inch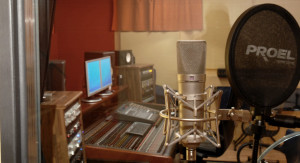 MICROPHONES:
Neumann U87
Neumann Km184 Stereo Set
Audio Tecnica AT 4050
Sennheiser MD 421 x4
Sennheiser E906
Oktava 012 Stereo Set
Rode Nt3
Akg D112
Shure Sm57 (x6)
Shure Beta57
Shure Sm58
SOFTWARE
Digidesign Pro Tools 8
Steinberg Cubase 4
Sony Sound Forge
Steven Slate Drums - Drumkit From Hell - Pure Drums : SAMPLE
Plug-ins Waves, Antares, Native instrument, UAD, ecc.
INSTRUMENTS:
DRUMS: Tama Starclassic Performer (Kick 22x18,Tom 10x08,Tom 12x09,Tom 14x11,Tom 16x13, Snare 14x5 1/2. Birch Drums with Star Cast system)
Double bass Pedal DW 8000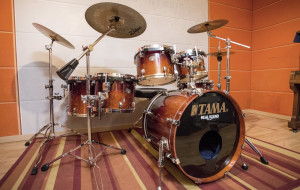 Pro Bass Guitar:
Ampeg SVT2-Pro made in USA
Ampeg SVT-810AV (8x10') Cabinet made in USA
Mark Bass Head p501 RealTube compressor 500w
Epifani Speaker 1000w (4x10')
Pro Guitar:
Peavey 5150 EVH Head
Mesa Boogie Dual Rectifier 100w Head
Diezel Einstein 100w Head
Engl Screamer 50w Head
Krank Revolution 100w Head
Marshall JCM 2000
KEMPER Profiler
Mesa Boogie Cabinets 4x12'
Peavey Cabinets 4x12'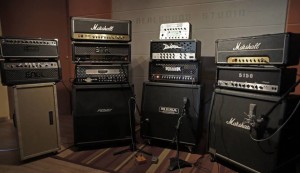 Gibson LesPaul Zakk Wylde
Blade Rh4 Electric guitar
Ovation Medallion 1970 Acoustic guitar
Spector 5LX Bass
Fender Jazz Bass Fretted
Ibanez Bass SR500
Pro Keys:
Master keyboard 88 tasti pesati CME uf8
Master Keyboard 32 tasti Edirol Pcr-A30
Yamaha sy 85
Piano Acuostic Brodner